Dracula 3D photos released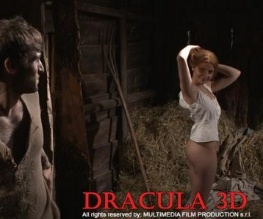 Photos have been released of the new Dracula 3D film and they are, well, they're actually quite dull. It's dark (moonlight and candlelight being the predictable flavour of the month), lots of perturbed faces (well what do you expect with a vampire on the loose), and a bit of blood (again, vampire. on the loose).
Dario Argento is at the helm of Dracula 3D and – after his recent directorial-misdemeanors – we do hope that the film is more exciting than the photos. But then again, maybe all the lovely 3Dness will make everything come good. And we do like the idea of Rutger Hauer as Van Helsing.
If you're dying for more, head to the Dracula 3D website for all the vampy pictures you can get your teeth into.
About The Author