Dreamworks developing Monkeys Of Bollywood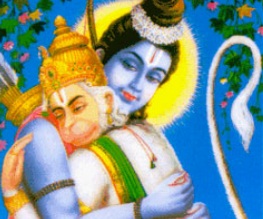 For those who aren't massive monkeys and musical fans, this news might not be that exciting. But we couldn't fall under that bracket more. MONKEYS! MUSICALS! HINDUISM! YEAH! Dreamworks have announced that their next project will be an animated Bollywood musical based on the Hindu poem The Ramayana; an epic tale of two monkeys stopping a demon from taking over the world. Yes.
We have to say, had it not been for the glory of Dreamworks' recent How To Train Your Dragon, we wouldn't be half as up for this as we are. But dammit, they've proved they can deliver a good story with genuine heart and laughs without having to refer to Starbucks or MTV or any other hilarious bits of pop-culture. And, if they play this right, bringing music into the CGI kids film genre could be their way of getting an edge over that blasted Pixar. Word is lyricist Steven Schwartz (of musical Wicked, Pocahontus, The Hunchback Of Notre Dame, Enchanted and more) and renown Indian composer A.R. Rahman are on-board to pen the music, which means we can be fairly sure that it will at least sound amazing.
Fusing Eastern myths and music with Western animation… are you intrigued? Let us know your thoughts below…
About The Author