Eddie Izzard and Bob Hoskins dwarf up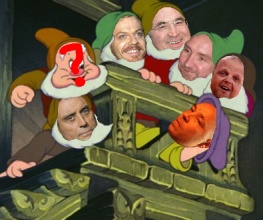 Eddie Izzard, Bob Hoskins and Toby Jones have all been confirmed as cast members for Universal's forthcoming fairytale reboot Snow White and the Huntsman; they join Ian McShane in the growing list of dwarves who will rescue Snow White (Kristen Stewart) from her evil stepmother (Charlize Theron). What an amazing sentence.
Brawny Tiberius (Izzard), timid Claudius (Jones) and blind Constantine (Hoskins) are finally filling up the dwarf cottage along with Ian McShane's Caesar (we bloody love these names), whilst Chris Hemsworth is swapping his mighty hammer for a knife suitable for cutting out hearts as the titular Huntsman. Stephen Graham (Combo, This is England) and Eddie Marsan (Inspector Lestrade, Sherlock Holmes) are also in talks to join the dwarves, so we stuck them in the photo anyway (we got a bit carried away). But even if they do sign up, we still need one more dwarf! We want Omid Djalili. SO MUCH.
Who would you pick to play the Seventh Dwarf? Let us know below!
About The Author