Enigmatic teaser for The Master is released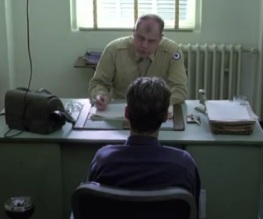 Paul Thomas Anderson's mysterious new film The Master has crept online for the first time, with a tiny clip of star Joaquin Phoenix going up against the Skyfall trailer as today's best snippet of promo material.
The hundred-second teaser shows Phoenix, whose ex-military drifter character becomes drawn to Philip Seymour Hoffman's L. Ron Hubbard-alike intellectual faith healer type fellow, being debriefed by some sort of army shrink. It's not so dissimilar from the start of the Skyfall trailer, actually, apart from the bit where Phoenix apparently drinks rocket fuel out of an actual rocket. Beat that, Bond:
Set in 1950s America, The Master will follow Hoffman's character and his right hand man Freddie Sutton (Phoenix) as the faith-based movement founded by 'The Master' began to gather speed. Sutton becomes progressively disillusioned with his mentor, as you might imagine. Also, Amy Adams is in it. Come on, it's clearly going to be ace.
What do you think of this teaser – masterful or merely masturbatory? That so, SO nearly makes sense.
About The Author