The new Dark Knight Rises poster uses Colouring In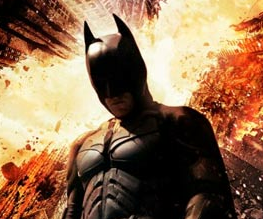 Now, as we all know, The Dark Knight Rises opens in our cinemas in just under two months, so there's still plenty of time for the Nolan marketing team to rally the troops. After all, so far we've only had a poster, a teaser, another poster, a viral campaign , a trailer, a prologue, some pictures and some more pictures. We don't know about you, but we feel totally in the dark about this whole thing. Anyway, a new poster has been unveiled, and it might be that everyone is running out of ideas a bit. SAME POSTER! YAY!
Here is it. LOOK AT THE ORANGE! We thought Chris Nolan HATED tropical shades!
Now. Yes, of course that's very impressive and moody and blasty and stuff, but also, it's this:
But with Christian Bale slotted in. We can do that. We literally could have done that for you, Chris, and all we would have asked in return was a sneaky peek at what Bane is actually saying. Look:
See? There's so much more INTRIGUE now – who is he pointing at? What is that award he's holding? Is it the award for Being A Really Good Batman? How does he get his hair so thick and lustrous whilst worrying about the fate of poor old Commissioner Gordon? Hang on, actually:
Nice to remember we're here to have a good time, isn't it Chris? You know where to find us.
Do we have too much time on our hands? Say the word "yes" below:
About The Author