Even More Photos from Dark Shadows!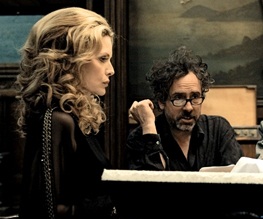 Despite our repeated claims that we're sick of Tim Burton, we're nauseated by his relationship with Johnny Depp and we have no interest in his relentlessly quirky projects, we can't help it. We can't hear about new photographs for a Tim Burton film without looking at them. It's virtually impossible. So here we are, EVEN MORE photographs from Dark Shadows, Tim Burton's latest project. It has VAMPIRES and MICHELLE PFEIFFER and OPULENCE.
Dark Shadows tells the story of Barnabas Collins (Depp), a vampire who has been buried for over 200 years trying to reconcile with his family in 1972. Despite the massive amount of vampire projects in the last couple of years, this does sound like a pretty good take on an old tale.
Dark Shadows is due to be released in May 2012
About The Author