Evil Dead new image stills and poster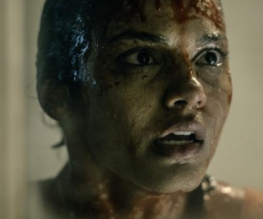 A handful of scary new images from the upcoming Evil Dead remake has just been released, eradicating fears that the remake is a horrifically bad decision. The new band of photos may not be as bloodthirsty and visually disturbing as the red band trailer, but they'll satisfy Evil Dead fans' thirst for some of the original gory nastiness prevalent in the 1981 horror. And it doesn't stop there. Evil Dead has also scored itself a brand new poster, although it is pretty much no different from the first, bar the fact that it's now RED.
The first still from the Evil Dead remake gave us a creepy girl peeking up from under the floorboards, with a somewhat intentionally cheeky grin – bringing back some of the humour famous in the Evil Dead franchise.
Check out the latest images below (and click to enlarge… but you all knew that already):
Suitably creepy, right? And AND the demonic sexually-abusive trees are BACK. Excellent. The new poster is slightly less terrifying, featuring the same words as the first poster but with EVIL DEAD written in larger font and scrawled across the middle. Great job. Check out the new poster below: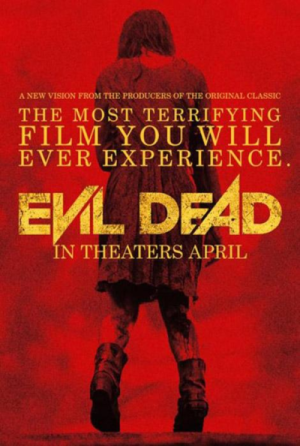 Along with these new images, director Fede Alvarez has revealed that there are no computer-generated FX shots in the film. Whatsoever. The director added:
"Everything you will see is real, which was really demanding. This was a very long shoot, 70 days of shooting at night. There's a reason people use CGI it's cheaper and faster, I hate that. We researched a lot of magic tricks and illusion tricks. [Like] how you would make someone's arm disappear."
Alvarez, you had our curiosity, now you have our attention. You wanna know how much we're looking forward to Evil Dead? Check out our Top 10 horror films for 2013, where Evil Dead scooped up number 3!
Excited to see the Evil Dead remake? Think it'll do it's originator justice? Let us know below!
About The Author