Expendables 2 is not only a real film, but has a poster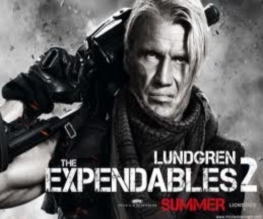 A new poster has rolled onto the interwebs for The Expendables 2! The film has quietly been masquerading as a joke if you've been to the cinema any time in the last three months, purely because the Yummy-Mummy-Tummy-Spunker himself, Jay from The Inbetweeners, keeps showing up in the adverts (the massively overblown ones Orange does to remind you to put your phone on silent; personally, we liked the good old-fashioned series of obnoxious BlackBerry tones to batter both your eardrums and your phone into shameful submission). Click to enlarge.
The cast looks a lot like the bazooka-toting versions of Take That, aged but still full of enough protein powder and Viagra to call themselves Men with a capital M. Taking centre stage is Sylvester Stallone (Rocky), flanked by such balls of brute strength as Bruce Willis (Die Hard), Jean-Claude van Damme (Timecop), and Jason Statham (The Italian Job).
The only inexplicable, non-straightforward question this film raises is exactly which depraved sex act poor Liam Hemsworth (The Hunger Games) had to do to end up in it. Considering his talent, muscle mass and hair lustre are all eclipsed by older brother Chris (Thor), I imagine that when one's brother is a god, you feel pressured to up your hardman quotient somewhat. Still, Mjolnir > BB gun. Sorry Liam. See you on August 17th!
About The Author