RIP Ernest Borgnine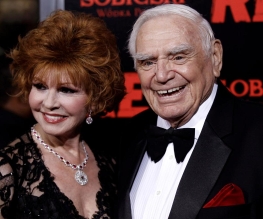 'Tis the season it seems, for the great and the good of the silver screen to quietly take their final bow and turn off the dressing rooms lights. Oscar-winning actor Ernest Borgnine was welcomed to the great wrap party in the sky yesterday, when he died of kidney failure at the age of 95, surrounded by close family.
Borgnine won his Academy Award in 1955 for his portrayal of a love-deprived butcher in Marty and continued to make films for the next six decades at a rate of nearly three films a year. His final film The Man Who Shook The Hand Of Vicente Fernandez was finished in 2011 and is set for release this year.
Born in Connecticut in 1917 to Italian parents, Borgnine joined the US Navy during the Second World War and served there until 1945. Unwilling to take a factory job when he left, he decided to give the stage a try and found himself a natural, getting his first big film break with From Here to Eternity in 1953. He went on to play Quinton McHale in McHale's Navy, co-starred in the 80s action series Airwolf, received an Emmy at 92 for his role in ER and voiced Mermaid Man in SpongeBob SqaurePants.
Friends have spoken out of the loss of a Hollywood icon and a true gentleman with 'an infectious chuckle'. At the age of 91, when asked the secret to his long life in a Fox News interview he leaned over and whispered 'I masturbate a lot'. With more than 200 credits to his name and a final film that wrapped only months before his death, it seems his secret served him well.
RIP Ernest Borgnine
1917 – 2012
About The Author