Fifty Shades Of Grey finally ties up a director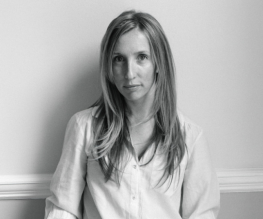 Fifty Shades Of Grey has had more directing and casting rumours than Star Wars: Episode VII (well OK maybe not that bad), but finally someone has swallowed their pride and stepped up to the plate. Sam Taylor-Johnson (formerly Sam Taylor-Wood), best known for her only other theatrical film Nowhere Boy, will captain the good ship S.S. BDSM when Fifty Shades Of Grey begins filming early next year. There's still no news on actual casting yet.
Since Sam Taylor-Johnson recently married a famous Hollywood actor, Aaron Taylor-Johnson, who she worked with on Nowhere Boy, rumours have already been flying about the possibility of the Kick-Ass star playing the psychopathic and sexually disturbed character of Christian Grey in Fifty Shades Of Grey. This is a little improbable, he looks more like a baby bird than an Adonis, but hey, you heard it here first folks. Incidentally, Aaron Taylor-Johnson is 23 years younger than his new bride, a fact which is completely unremarkable and not at all noteworthy.
Anyone who signs up for the role of main characters Ana or Christian will have their work cut out for them. Make no mistake, the Fifty Shades Of Grey film will be 2 hours of bumping uglies. There's no word yet as to whether Fifty Shades Of Grey will have the two subsequent books made into sequels, but it's pretty much a certainty – the books were extraordinarily and inexplicably popular, and the films will be too. Let's hope Sam Taylor-Johnson sticks around for series.
Fifty Shades Of Grey producer Michael De Luca had this to say on the directing announcement:
"Sam's unique ability to gracefully showcase complex relationships dealing with love, emotion and sexual chemistry make her the ideal director to bring Christian and Anastasia's relationship to life".
…which is the most tepid and disingenuous description of the content of Fifty Shades Of Grey you're likely to hear.
Excited for a Fifty Shades Of Grey adaptation? Who should play the lead roles? Emma Watson has already said no – we double-checked.
About The Author