Fifty Shades somehow gets another cast member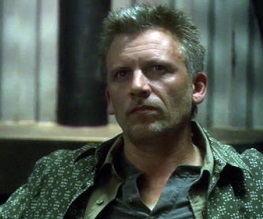 Like a syphilis-ridden corpse that just won't die, Fifty Shades of Grey continues to be a thing despite woman everywhere having fudded their smushkis dry already over Anastasia getting flayed with a banjo string or something. The latest on the chopping block: Callum Keith Rennie.
Callum Keith Rennie has been cast specifically because he has a face like an ironed-out ballbag. It's the same face you may have seen in Memento, Blade: Trinity and The Butterfly Effect – you remember The Butterfly Effect? It had two endings. One of them saw a baby consciously strangle itself in the womb with an umbilical cord to stop Amy Smart becoming a junkie. That's the level we're on here.
A quick look down the cast list for Fifty Shades reveals a fairly horrendous mix of chancers and non-actors that include Dakota Johnson (probably fine, not Dakota Fanning), Jamie Dornan (sexy and desperate), Marcia Gay Harden (desperate) and, inexplicably, Rita Ora. Yeah, Rita Ora. Rita Ora is in the 50 Shades film. Hot Right Now, Rita Ora. Rita "Not Rihanna, Never Will Be" Ora.
Fifty Shades of Grey is now scheduled for release in 2015. Hopefully the cast will be long dead by then.
Seriously, Rita Ora?
About The Author