First Argo trailer hits web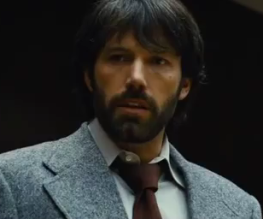 We haven't known a whole lot about Argo, Ben Affleck's much-anticipated third film as director (following Gone Baby Gone and The Town), but the first trailer for the 1970s thriller has just arrived online and we're ruddy bloody gobsmacked. The Campaign can officially do one – this week's best trailer has arrived, and we'll stand by that even if a trailer for The Avengers 2 turns up tomorrow projected onto Robert Downey Jr's naked chest. Probably.
We would explain the (completely true, by the way) story of what became known as the 'Canadian Caper', but it's all been done for us above. It may interest you, however, to know that Affleck's character is none other than CIA covert ops specialist Tony Mendez – you can read up on him, and the incredible true story of the CIA's only ever sci-fi film project/desperate exfiltration attempt, all over the Internet. We're more interested in saying things like "OH MY FUCK BRYAN CRANSTON WE LOVE YOU" and similar.
How good does Argo look? Seriously, how bloody good? Spunk all your joyous, gluey opinions below…
About The Author