First Django Unchained footage released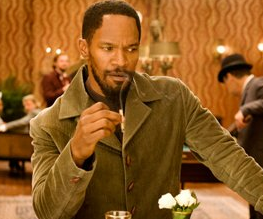 Things are picking up speed for the Django team. It was only last week that we got our mitts on spanking new pictures of the cast (including Jamie Foxx in a dangerous natty jacket), and finally we've got some actual footage. Or, at least, the promise of some footage. Yep, we're back in the huggable world of TRAILER FOR A TRAILER FOR A, and there's little we can do except kowtow to its whim. Hurrah?
Considering the subject matter – a freed slave (Foxx) determined to wreak deadly vengeance on the range-owner (Leo DiCaprio) who worked him to the bone – there's a surprisingly jaunty feel to this footage. Is this just because it's a promo, or is this shootin-and-tootin what we should expect from Tarantino's latest? Take a look…
"HE'S A RAMBUNCTIOUS SORT" – he sure is, Leo. He sure is. To be honest, the cast look to be having a bloomin great time, and having been a little glutted on frowny-moustache types Westerns in the last few years (think Blackthorn, True Grit, There Will Be Blood), it might be nice to add a little blood lustin into the proceedings. HOT DAMN. Anyhoo, a proper trailer can't be far away, so we'll reserve judgement till then, eh?
About The Author