First look at Ang Lee's Life Of Pi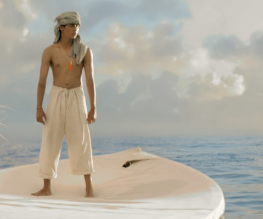 Forgotten about The Life Of Pi, had we? Tossed aside your barely-thumbed paperbacks, thrown out your Sparknotes guide, favouring the flashy thrills of Stephanie Meyers, Stieg Larsson and Suzanne Collins? (seriously, what's with proliferation of S based authors?) WELL SOME OF US HAVEN'T. We've been waiting with bated breath for Ang Lee's take on the hit novel of 2001 – SHUT UP we totally have – and today our patience has been rewarded with… AN IMAGE. A whole one. Exciting stuff.
So, for those who spent 2002 not reading the Booker prize winner and, oh we don't know, listening to Something Stupid by Robbie and Nicole Kidman or something, Life Of Pi is a bloody weird book. Ostensibly about a boy who finds himself trapped on a sail-boat with only a Bengal tiger, a spotted hyena, an injured zebra and an orangutan for company, it's a strange little tale that begins to widen out to encompass the young lad's family history, as well as starting to question its own reality. Saying any more may ruin the tale for you, but safe to say, it's certainly not a narrative that's easy to convey over film. Perhaps it's appropriate then that the first picture (courtesy of Criterion Cast) makes no sense. Fair.
SUCH A BIG TIGER! SUCH A SMALL MAN! A CLEAN BOAT? CLOUD SEA? Gosh the confusion. It looks a bit like some dreadful photoshop done by any of the BFF team to be honest, but we're happy to show willing and go with the idea that this is all meaningful and dimension-shifting in some way. And hey, Life Of Pi, eh? How long we've been counting down the seconds…
About The Author