First look at Angelina Jolie in Disney's Maleficent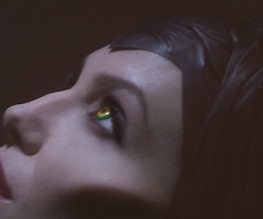 As we all know, villains are the best. Forget your wussy little Cinderellas and Sleeping Beauties ("ooh I'm sooooo tired"), we all pay attention to classic fairy tales when the villain comes into play. As recently illustrated by Charlize Theron's scenery-chewing performance in Snow White and the Huntsman, evil queens in particular are good fun. They're usually obsessed with eternal youth and beauty and have some kind of chip on their shoulder about men, you know all that shit. But goddamnit can they be scary.
Thus, Disney's next live action venture Maleficent will focus on the untold story of, unsurprisingly, Maleficent. You remember her. The one from Sleeping Beauty. This bitch:
Written by Linda "The Lion King" Woolverton, the film will focus on the events that led to Maleficent (played by Angelina Jolie) putting a curse on the baby Aurora – bet you TEN POUNDS it's something to do with a man/eternal beauty. It will also feature the likes of Elle Fanning, Imelda Staunton, Miranda Richardson, Juno Temple and Lesley Manville. And here's a tiny little taster of what to expect:
(Click to go big)
Obviously, this photo doesn't give a great deal away but you can see that they've decided to stick with Maleficent's horny hat thing. Nice hat, Mally. Can we call you Mally?
Maleficent will be out in 2014 which is so far away that we could probably all have babies and put curses on them before we get to see it. Maybe even two babies!
About The Author