First look at Pirates of the Caribbean: On Stranger Tides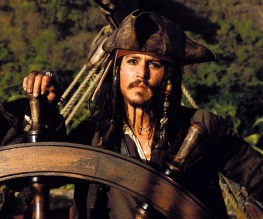 Although the official trailer is not due to hit our screens till next week, Entertainment Tonight managed to grab a sneaky peek at the latest Pirates of the Caribbean instalment. The footage includes lots of Johnny Depp in action, interviews with the crew and the briefest glimpse of Ian McShane as Blackbeard, Sparrows new arch-nemesis. It is now confirmed that Blackbeard's daughter Angelica, played by Penelope Cruz, will be the new love interest for Captain Jack.
The fourth Pirates movie charts the adventures of old favourites Sparrow and Barbossa on their quest to find the Fountain of Youth. As well as lots of the usual high jinks on the high seas, there's a good old fashioned cab chase through cobbled streets, filmed on location in London.
It is rumoured that Stranger Tides will enjoy a less abstract plot than its predecessor and hopefully we'll see a welcome return to the high octane action and slapstick that made The Curse of the Black Pearl so entertaining. With the news that back to back shooting of Pirates 5 and 6 is already being discussed, we'd better hope that the fountain of youth is potent enough to rescue this particular franchise from the imminent danger of becoming just too old.
About The Author