First pictures from Chloë Moretz's Carrie remake appear online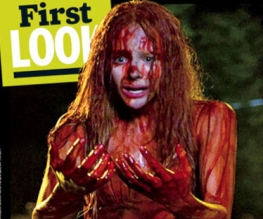 Running in the latest issue of Entertainment Weekly, the début images from Kimberly Peirce's remake of Brian De Palma's Carrie (itself an adaptation of Stephen King's novel) have now also appeared online.
Cutting straight to the chase with a third act snapshot of Chloë Moretz drenched in pig's blood, the first of the two images plays on perhaps the most iconic scene from the '70's classic, in which the titular role was played by Sissy Spacek. Also glimpsed in the pair of images is Julianne Moore as Carrie's unstable, super-religious mother.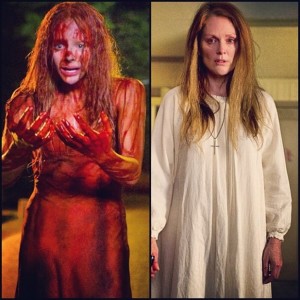 In what might perhaps be seen as a play for the less stigmatised label of reinterpretation, Moretz has previously spoken of the new film's faithfulness to the novel. Likening the film to Darren Aronofsky's acclaimed Black Swan, the actress (set to reprise her similarly blood-soaked role in the sequel to 2010's Kick-Ass) explained: "It's more like the book. It's a more Black Swan version – it messes with your mind".
Do these images put your mind at ease? Or do they just make you want to re-watch the original? Grab a bucket of pig's blood or a sympathetic towel when Carrie arrives in cinemas next year. 
About The Author