First stills from Luhrmann's Great Gatsby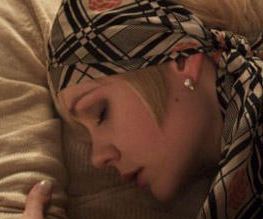 After casting news that seemed to stretch on for months and months, we've finally got a bit of Great Gatsby-based visual pay-off. Sure, it's slightly tempered by the fact that when we see these scenes played out they'll be in EYE-BAFFLING 3D, but you can't win em all, eh?
Warner Bros have today released two official stills from the 2012 adaptation of the F.Scott Fitzgerald novel, and they're a bit delicious. Soaked in old-school Hollywood glamour, showcasing the seemingly ageless Leo DiCaprio as well as the ever-enchanted Carey Mulligan, we're frankly just hungry for more.
Look at how pained Carey Mulligan is! That's a lot of pain. The pain of a love cleft in twain, is what we reckon. Hopefully Warner Bros will continue to drip feed us in that way they love to do, and we can begin our collection of emotional Carey Mulligan headscarves. We've yet to get an exact release date for the star studded Gatsby, but with a cast that includes DiCaprio, Mulligan, Tobey Maguire, Joel Edgerton and Isla Fisher, I think it's fair to say it probably won't pass us by.
About The Author