First trailer for 22 Jump Street is mad and brilliant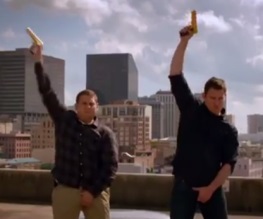 Like all right-thinking people, we adored 21 Jump Street and have been SUBSTANTIALLY more excited about its sequel than we were about Anchorman: The Legend Continues (it's really not all that, guys). And now, as an early Christmas present to all you Molecule Monday fans out there, we've got the best thing little baby Jesus ever pulled out of his big red sack – a no-holds-barred trailer for Schmidt and Jenko's latest adventures.
We're going to go ahead and shut up so you can watch:
YEEEEEEEAH! 22 Jump Street looks SO STUPID and SO GOOD, and it's got all our favourite things. Ice Cube? CHECK. Repurposed ethnic churches? CHECK. Characters with unexpected vaginas? DOUBLE CHECK. Plus we'd totally forgotten about that Wallpaper. song – nice to know that some people other than us remember what was happening on YouTube three years ago. AND James Franco's little brother, what's he been up to? We love him. THIS IS GOING TO BE SO GREAT.
22 Jump Street is out in June. We're psyched.
About The Author