First trailer for Aung San Suu biopic The Lady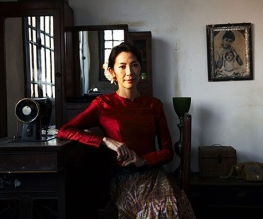 There are few biopics we're as excited about as Luc Besson's take on Burmese freedom-fighting legend Aung San Suu. Considering the story so far (Michelle Yeoh, the actress playing the woman herself, being deported from Burma because of her involvement) we're just relieved that the project managed to pick up speed at all. We've got a first teaser trailer for the film, and it looks damned exciting.
Though the trailer doesn't give much away, it's pretty fair to assume the biopic will cover San Suu's involvement in the pro-democracy movement in Burma, her election win in 1990 and her subsequent house arrest (which lasted for 15 years). Take a look:
We still can't quite shake off the feeling that Besson is an odd choice for what might be a very important film – do we really trust the true story of a political legend in the hands of the guy who gave us Transporter 2? But heck, Leon was amazing, The Adentures of Adele Blanc-Sec was deeply charming and, well, at the very least we're sure we won't be bored. Just just hoping Jason Statham doesn't pop up.
About The Author