Pixar tackle dinosaurs and psychology in two newly announced films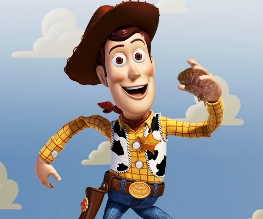 The news that Pixar are creating something new always comes as something of a highlight to our days.
Aside from the previously announced Brave, to be released in the summer of 2012; and Monsters University, the 2013 follow follow-up to Monsters, Inc., Pixar honchos at this weekend's D23 convention have announced the production of two shiny new animation feature-films. HOW. EXCITING.
From veteran Pixar writer, animator and voice-lender Bob Peterson and producer John Walker, comes Untitled Pixar Movie About Dinosaurs – whose catchy title may have been reconsidered by its release on November 27, 2013. All they can say so far is "What if that life-changing asteroid missed Earth?" apparently a "hilarious tale" "in a world where dinosaurs never went extinct". Say no more Pixar, say no more.
As if a film about a world overrun with chicken-reptiles wasn't enough, Pete Docter, director of Monsters, Inc. and UP has been working on a Pixar treat that takes the viewer inside the inner workings of the human mind. Deep. Set for release in May 2014.
Dinosaurs and Disney psychoanalysis. Yes.
About The Author