First trailer for Dustin Hoffman's Quartet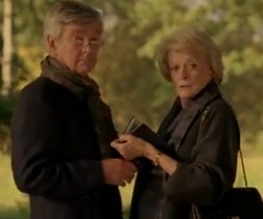 Nobody would fear the inevitable march of old age if what waited for us at the end of it was a retirement home like the one in which Dustin Hoffman has set his new film Quartet. Beecham House is a home for retired opera singers, complete with resplendent ballrooms and residents in the form of a stellar British cast making pithy comments about being old and fabulous rather than wetting themselves while quietly rotting to death infront of daytime TV and being abused by nursing staff.
[This is the part of the article that originally contained a copy of the trailer, but we've been ordered to take it down by an emissary of The Weinstein Company. Not even Best For Film argues with Bob and Harvey. Anyway, the article continues:]
There's some clever twist in which Maggie Smith comes to stay but frankly the plot is sort of irrelevant. Quartet will be a box-office smash because Maggie Smith arrives at all. And Billy Connolly, Pauline Collins, Tom Courtenay, and Michael Gambon are already there. And it's directed by Dustin Hoffman. And it's lovely to look at and it'll no doubt sound lovely because it's a home for opera singers and it'll be littered with clever British one-liners and jokes about forgetting things that your parents will try to repeat at dinner parties but forget.
In the trailer Maggie Smith makes some breathy, witty put down while leaning on a stick. You could probably slide that scene into Downton Abbey, Harry Potter, Sister Act, even The Secret Garden and no one would notice. She's been leaning on that stick for years! Doesn't matter, she's going to be great, the film's going to be glorious and everyone's going to go see it.
Will you be seeing Quartet? Let us know below!
About The Author