First trailer for John Hillcoat's Lawless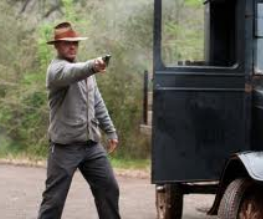 Heard of a little known acting bloke called Gary Oldman? Nah? Tom Hardy? How about Jessica Chastain, or Guy Pearce, or Mia Wasikowska? We'd throw Shia LeBeouf into the mix but, yeah. You know why. Anyway, Lawless is as packed with talent as Shia LeBeouf's shirts are packed with the reason he's famous, and we can't bloody wait.
Based on the historical novel The Wettest County In The World by Matt Bondurant, Lawless follows the true story of the infamous Bondurant Brothers, who made a fortune bootlegging moonshine during the great depression in Virginia. Take a look at the trailer below and get yer thoughts together:
Isn't it nice when Tom Hardy does a deep gravelly voice that WE CAN ACTUALLY UNDERSTAND (no offence, Bane, we love your charismatic dribbling). And could it actually be that Shia LeBeouf is going to do some actual acting? We know from his cavorting on The Road that John Hillcoat is more than capable of ladling on glorious atmosphere – a key component of capturing the essence of the Ol' West.
No word yet on when Lawless will hit the UK, but a US release date of 31st August has been confirmed. ILLEGAL HORRIBLE ALCOHOL TO CELEBRATE?
About The Author