Kurtzman and Orci to rewrite Amazing Spider-Man sequel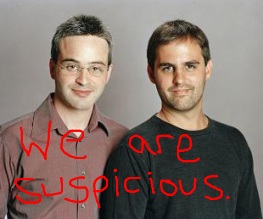 Transformers, Star Trek and Cowboys & Aliens co-writers Alex Kurtzman and Roberto Orci have been signed up to write a second draft of the sequel to The Amazing Spider-Man, despite the fact that it isn't even out yet. Whatever happened to making films one at a time?
Kurtzman and Orci have also collaborated on classic films including Mission: Impossible 3, The Legend of Zorro and The Island, and their repeated collaborations with both Michael Bay and J.J. Abrams leave us unable to decide if they're worthy gents or festering twats.
James Vanderbilt, who wrote the screenplay for the first of Marc Webb's updated Spidey stories, also produced a first draft for the sequel but has now been given his marching orders. Kurtzman and Orci said "We grew up as huge Spider-Man fans so, to us, the opportunity to work on this film is akin to being handed the Holy Grail. We love the direction Sony and the filmmakers are taking the Peter Parker/Spider-Man mythology and we couldn't be more excited to be a part of this legendary franchise."
Sony has scheduled production of the as-yet untitled sequel to The Amazing Spider-Man for the first quarter of next year, with a tentative release date of May 2nd 2014. We'll let you know about the plans for The Amazing Spider-Man 3 in about a week, probably.
About The Author