First trailer for Keira Knightley's Anna Karenina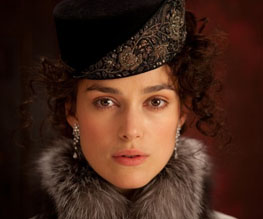 After a long while keeping pretty quiet about upcoming film Anna Karenina, Joe Wright and his team have finally released a delicious trailer. Come, watch it with us. And don't worry, it's free of dodgy Russian accents and crammed full of lush visuals and fancy hats and moustaches. Also, you can expect to see Jude Law embracing his TRUE hairline. Hooray!
Have a watch and let us know what you think:
This looks like it will be a little along the lines of Baz Luhrmann's upcoming film The Great Gatsby, if a tad more English. We all know from Atonement and Pride and Prejudice that Wright is pretty adept at handling the grand, romantic stuff, and visually-speaking he's one of the more ambitious directors out there at the moment (remember that beach sequence in Atonement?). The only thing that occasionally troubles us about his work is that he can be a little "all style, no substance". But come on, this is Anna Karenina. Plus, Keira Knightley looks perfect and she seems to have a bit more gravitas in this role than normal. And Aaron Johnson has a great moustache, and Jude Law looks just like Jude Law with glasses. Think we could be onto a winner with this one, guys.
Anna Karenina will be out over here on the 7th September. Excited?
About The Author