First trailer for Men In Black 3!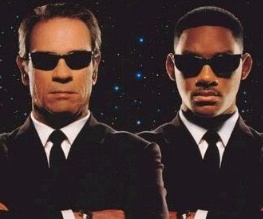 A couple of weeks ago we got our first glimpse of the MiB 3 marketing when a Tommy-Lee-centric poster was revealed – now we can say with no small amount of hopeful dribbling that the very first trailer is here. And it's got Emma Thompson in it.
Now it might be that we're fools, MAD FOOLS for being as excited as we are about MiB 3, considering the underwhelming sequel to the 1997 classic broke all of our hearts forever. But… but… Will Smith! Tommy Lee Jones' face! The flashy thing! Lovely suits! We're suckers for it, and we're not even ashamed. This time it will be different! We just know it. It's about TIME TRAVEL, remember. No films with time travel in have every been bad, that's just a fact.
Make sure you watch till the end to get a brain-leaking glimpse of Josh Brolin as young Agent K…
Ready to have our hearts broken all over again? You bet we are.
About The Author