Exclusive Pics Of The Magnificent Eleven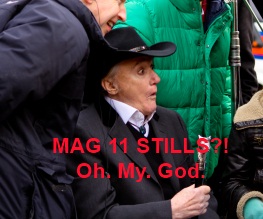 Do you like cowboys? Do you like football? Do you like Irvine Welsh? Do you like Robert Vaughn trying out a variety of amusing expressions?
If the answer to any of these is a resounding HELL YEAH, then you need to start getting excited about independent Brit flick The Magnificent Eleven!
This independent comedy film recently began filming and, with Irvine "The Acid House" Welsh attached to the project, we've raised our expectations pretty darn high. For now, all we have to base our hopes on is a brief synopsis and a handful of exclusive stills.
Roll camera, please…
This very much looks like a cameraman but it is, in fact, a DOP (that's Director Of Photography, to all of you not down with your film buff acronyms!). He's undoubtedly pointing his camera in the direction of some glorious cowboy-football fusion.
Gah, such ghastly pink uniforms! Ahem. If you look beyond the fluorescent prawn-like hue, you'll see that KEITH ALLEN is standing on the pitch, looking bothered. He's totally bothered about something. We wonder if it's the fact that, just out of shot, a dancing tomato is heckling him…
Robert Vaughn, oh he of the original Magnificent Seven, is an acting legend. An acting legend with great big massive eyes. He looks a little like a Bushbaby in a Stetson, doesn't he? What could he be looking at that has surprised him so…
Ooh! Oooooh! This is why Robbie Vaughn is being all shocked, isn't it? He just spotted Paul Barber dancing. And we all know what happens when Paul Barber dances, don't we? HIS CLOTHES FALL OFF!!! The Full Monty has a lot to answer for…
So there we have it. The Magnificent Eleven is officially happening. Do you think you'll be heading to the cinemas when it hits the silver screen in Spring 2012?
About The Author