First trailer for Ralph Fiennes' Coriolanus now online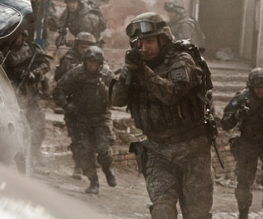 Everyone knows the best way to sex up a Shakespeare is put loads of REALLY GOOD LOUD STUFF IN IT – just look at Lurhmann's Romeo+Juliet, Julie Taymor's Titus Andronicus or her Tempest. It looks like Ralph Fiennes is continuing the tradition splendidly with his directorial debut: the blood-splattered Coriolanus. First trailer ahoy!
Updating the Shakespeare original somewhat, Fiennes' Coriolanus is set in modern day Serbia rather than Ancient Rome, but thankfully the original language seems to have stuck. Fiennes himself plays the lead Caius Martius – a military leader promoted to the title Coriolanus after a great victory in battle – in a story of war, greed, revenge and Gerard Butler talking all funny. There are peeks at a couple of stage and screen greats – Vanessa Redgrave and James Nesbitt are always a joy – and frankly we're just just happy it's not another bloody re-boot. Well, technically it is, but… Oh just watch it:
Rather cannily staying away from any dense dialogue and instead focussing on shots of BLOOD and GUNS, we hope Fiennes succeeds in his plan to trick loads of people into watching some Shakespeare. Out January of next year – we're excited.
About The Author