First trailer for Robert Pattinson-fest Bel Ami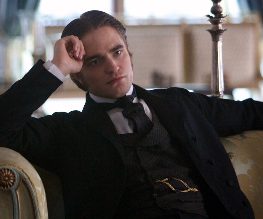 For all those who are sick of watching Robert Pattinson seduce women and glower in a variety of shirts- good news! He's starring in a new film where he seducing women in a variety of shirts, but IN PARIS! Yeah!
Based on Guy de Maupassant's novel of the same name, Bel Ami follows the history of a young scoundrel seeking his fortune in the heady days of Paris in the 1800s. Having served years of military service, his lucks changes when he bumps into an old comrade who is determined to show him all the joys Paris has to offer. And it looks like most of those joys come in thinly-wrought bodices.
Trailer ahoy!
Considering how up for erotic lace-busters we are (very), we have to say that it all looks a bit dull. The two and a half minutes plod along slowly as Pattinson invariably ends up ploughing his way through actresses a lot more talented than him in various dark corners (Uma Thurman, Kristin Scott Thomas, Christina Ricca, to name but a few). Still, it's not out till next year, so we've got a while to have our minds changed.
What do you make of it? Excited to see Pattinson's lusty face once again?
About The Author