Captain America lobs his big silly shield at Harry Potter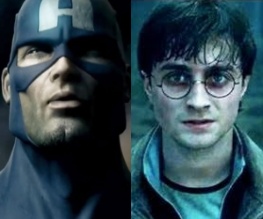 Captain America has charged into the US charts and rather jingoistically knocked Harry Potter and the Deathly Hallows: Part 2 off the top spot. That's amazing! Not.
Seriously, people, why is the whole Internet behaving like Stan Lee has personally rabbit-punched JK Rowling in the abdomen? Captain America's opening weekend delivered a perfectly respectable $65.7m, which admittedly beat Harry Potter's $48.1m by a considerable margin – however, it's worth remembering that almost no film manages to maintain even half of its gross into the second week, and that the opening weekend for Deathly Hallows Part 2 scooped a literally world-beating ONE HUNDRED AND SIXTY EIGHT MILLION DOLLARS.
In other news, No Strings Attached-alike Friends With Benefits (starring Justin Timberlake and Mila Kunis as some more identikit fuck buddies) opened in third place, with Transformers: Dark of the Moon and Horrible Bosses rounding off the top five. Nobody's crowing about Jimberlake giving it hard and dirty to Shia LaBeouf, are they?
About The Author