First trailer for The Great Gatsby – it's blooming well here!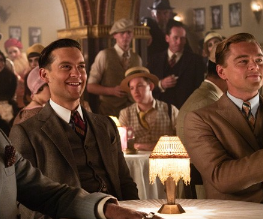 Having followed this project with keen eyes and keener loins since we first heard about it back over a year ago , it's with trembling hearts that we show you the very first trailer. No teaser for Luhrmann, no poxy stills and no 'check back here for a full blah blah blah'. This is a decadent onslaught of colour, light, sequins and EMOTIONS. And Tobey Maguire looking as deeply uncharismatic as ever, but you can't have it all, eh?
As we all know, because we've read F. Scott Fitzgerald's The Great Gatsby as we're proper human beings, it's an opulent tale of love, loss, innocence, tragedy, jealousy and of rather serious car-related troubles, centred around a universally loved but hardly known bachelor named Gatsby. Tobey Maguire, Carey Mulligan, Isla Fisher, LEO DI CAPRIO ARGHHHH JUST WATCH IT FOR ALL OUR SAKES
I think it's fair to say that if we didn't already know Baz was helming, you could probably guess from about 0.4 seconds in. So this is evidently a return to stylised decadence for the director of Romeo + Juliet and Moulin Rouge – but will it be style over substance? In a story whether so much meaning is imbued into so little action, are the nuances of the characters in danger of being steam-rollered by Luhrmann's dancing sex ladies, booze and fireworks? Maybe. But for now, we're just going to enjoy ourselves. PARTY!
Are you juicy and shivering? Us too. Hold us, Jay? Hold us and never let go?
About The Author