Footloose Remake Kicks Off (its Sunday Shoes)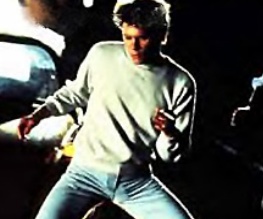 Could it be? Kevin Bacon back in our hearts, where he belongs?
Maybe not. But the story that made him famous; that of a teenager who discovers that his new hometown has outlawed rock music and dancing, might very well be back on our screens. And who's heading up the Footloose remake? Non other than Black Snake Moan's Craig Brewer.
Well what did you expect? We're so used to typing the word 'remake' at the Best for Film mansions that our gold encrusted keys are wearing down. We've heard tell of a re-make My Fair Lady with Carey Mulligan (whew) and possibly Hugh Grant (nooooo), we've had a Fame do-over and now this. It's only a matter of time before John Travolta dusts off his tightest trousers and gets those pesky chills that start multiplying all over again.
So why Craig Brewer and not, as was originally reported, Kenny Ortega of High School Musical fame? Apparently we can thank Paramount president Adam Goodman for the directorial switch-around – he wants the remake to be "edgier" than the original. And maybe, just maybe, he doesn't want it to be anything like High School Musical. A real shame.
Are you happier with a dark and edgy Footloose remake? Or did you want our beloved Zac Efron to fill Bacon's Sunday Shoes? Let us know below
About The Author