Fourth version of A Star Is Born to star… Beyoncé?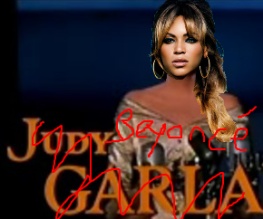 Iconic 30s musical A Star Is Born is to receive its third remake – with Beyoncé in the titular role of a naïve young ingénue whose fledgling career is boosted by the attentions of a fading star.
Yep. Global megastar Beyoncé, essentially playing herself from the mid-nineties. In a film directed by Clint Eastwood. Russell Crowe was originally co-starring, so perhaps we should be grateful for small mercies.
Honestly, whose idea was this? We've already got three film adaptations of what is essentially a very boring story – the 30s original starring silent movie queen Janet Gaynor, the rather more well-known (and Oscar-nominated) 50s musical with Judy Garland and James Mason, and the terrifying 70s 're-imagining' with a young Barbara Streisand and a mental Kris Kristofferson, which changed the profession of both rising and falling star from actor to musician. We don't need another tired rags-to-riches story, and we definitely don't need to see Beyoncé try to act again. Has Hollywood entirely forgotten Foxxy Cleopatra?
Heaven help us all.
About The Author