Black Panther on the prowl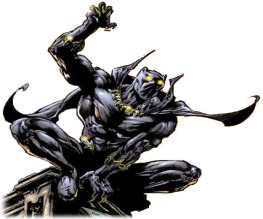 Mark Bailey (writer of HBO documentaries Facing AIDS and Ghosts of Abu Ghraib) is the unusual selection of Marvel Studio's to pen a new Black Panther film. Whilst the story (the heir of the African kingdom, Wakanda, who's got himself a nifty heart shaped herb that enhances his awesome combat abilities… or something. Read up on it here if you want) isn't one of the better known of Marvel's creations, but it's been kicking around the table as a project since Marvel Studio teamed up with Paramount back in 2004 to make ten films. The characters put forward included: Ant-Man, The Avengers, Black Panther, Captain America, Cloak & Dagger, Doctor Strange, Hawkeye, Nick Fury, Power Pack, and Shang-Chi. Some of these (The Avengers, Captain America, Nick Fury, Dr. Strange and now Black Panther) have met with the green light, others may yet appear.
Marvel Studio's is now one of the most lucrative franchises in cinema-world; back in December of 2009, Disney bought the group for a staggering $4 billion – enough to get anyone's Spidey sense tingling. Black Panther has been one of the characters to survive the Paramount plans, and the rumour mill will slowly start to grind out the potential directors and actors in the next year or so. Watch this space.
About The Author