Geek board game goes Hollywood – ready for Battleship movie?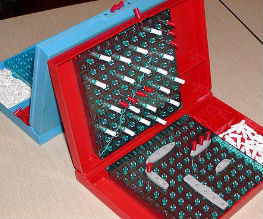 Following hot on the heels of the news that family favourite Monopoly is to be immortalised in movie form, we can report that Taylor Kitsch has been recruited to star in the film version of the Hasbro board game Battleship. Universal are the ones responsible for the the Battleship movie (as it is referred to in the Best for Film towers), with Peter Berg manning the directorial helm.
How is this 'adaptation' going to work we hear you ask? Well, according to our sources the film will be based on the attempts of a Naval fleet to protect our planet from otherworldly invaders (sounds a bit like Independence Day at sea if you ask us). Kitsch (X Men Origins: Wolverine) has been roped in to play a "wildly spirited" Naval Commander. Joy.
No word yet on a release date but shooting is due to start in Australia sometime this year.
Will this movie go Kerplunk! or are we talking Absolute Balderdash? Let us know below…
About The Author