Gervais defends his Golden Globes performance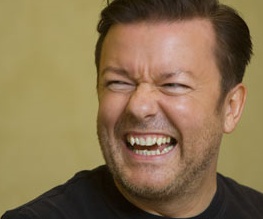 Whether you like Ricky Gervais or not, you have to admit he's a cunning wee thing. Having presented the Golden Globes over the weekend, he's managed to ensure that the the tales of the winners and losers have long faded into the background; all anyone wants to talk about is his performance.
As we reported earlier in the week, the Office and Extras creator sparked controversy at the awards by taking a pop at pretty much every celebrity going. From Martin Sheen to Robert Downey Jr, no over-inflated ego was left unpopped by the end of the evening. Come on, it was pretty funny. Introducing Bruce Willis as "Ashton Kutcher's Dad"? Brilliant. But sadly, not everyone was as entertained as we were. Appearing less in the second half of the ceremony, rumours began to fly that he'd been pulled from the show – but Gervais has dismissed this theory completely:
"'Obviously the rumour that the organisers stopped me going out on stage for an hour is rubbish, I did every link I was scheduled to do. The reason why the gaps were uneven is because when I got the rundown I was allowed to choose who I presented to. I obviously chose the spots that I had the best gags for. They couldn't move around the order but I could move around however I wanted."
Gervais was seemingly totally happy with how it went, stating "I enjoyed the Globes more this year. I think I had better gags".
What did you make of Gervais' performance?
About The Author