Go Web! Andrew Garfield's Spider-Man gets back to basics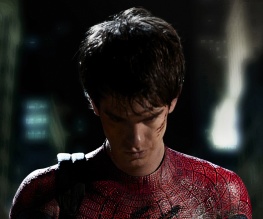 Last week, as you may recall, we published the first official photograph of Andrew Garfield in character as the all-new Spider-Man. All we had to say at the time was that he looked distinctly badass. However, Emma Stone (who will reboot the hitherto-underused character of Gwen Stacy) has let slip that the mysterious metal nubbins on Spidey's wrists (see below) correspond with "a device" which is part of his suit.
Fans of the Spider-Man comics were outraged when trilogy director Sam Raimi made the controversial decision to replace Peter Parker's home-made mechanical webslingers with organic spinnerets, although some reluctantly acknowledged that one more mad superhuman ability made a bit more sense than Peter being able to knock up such powerful machines within the confines of his bedroom. However, it would appear that Marc Webb has decided to revert to a storyline in which Peter builds his own esoteric weaponry! Super.
Which incarnation of the famous Webslingers do you prefer? Let us know below!
About The Author