Guillermo del Toro teases Justice League Dark film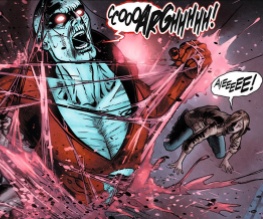 We've got comic book films coming out of ears at the moment – think Iron Man 3, Avengers Assemble 2, Captain America 2, Man Of Steel and so on – but Mama producer Guillermo del Toro has finally dropped a few hints about his big plans for a Justice League Dark movie.
Before fans of the series start to panic, it turns out that Guillermo del Toro isn't planning to butcher the DC Comic creations; he is, in fact, an obsessive fan himself. He wants to nurture them and love them and encourage them to flourish on the silver screen – check out what he had to say about it at a recent Mama press conference:
"I am going to be presenting my storyline to DC and Warners of where I want to take this universe. We do have a writer, but until that is firmed up, I have to keep it a secret… It's going really really well. It's like meeting old friends. I grew up with Demon Etrigan, with Swamp Thing, with Deadman, so these are characters that are near and dear to my heart."
"I'd love to use the origins that are proper to each character. I love the idea of Jason Blood as a paladin and a knight…. I love the entire Constantine mythology, the Dead Man mythology, the Alex Holland Swamp Thing mythology. These are really rich things to well, and to dig."
The yet-to-be-confirmed film has several working titles at the moment – some are calling it, quite simply, Justice League Dark. But we have a feeling this will NOT be the case as it will clash head on with the ACTUAL Justice League film penned in for 2015. Others are calling it Heaven Sent – but this has reportedly also been dropped. The latest reports from Complex, however, are calling the prospective film Dark Universe – which we guess is pretty cool. It sounds so, you know, dark and all-encompassing.
For those not up to speed with the new DC Comics series, Justice League Dark brings together some of the franchise's most offbeat, occult and, yes, dark characters and throws them together into an Avengers-style team. There's John Constantine, (a Liverpudlian magician) Shade (a man with the power to warp reality), Madame Xanadu (a fortune teller), Deadman (the ghost of an acrobat), Frankenstein (yes, that one), Swamp Thing (part man, part plant, part… thing), Mindwarp (a telepathist), Demon Etrigan (a demon, obvs), Andrew Bennett (a vampire) and plenty more besides. That makes a pretty meaty story – so long as it doesn't go down the route of The League Of Extraordinary Gentlemen, we guess.
We guess we'll have to wait and see if this one comes to fruition, but we'd quite like to see the horror director bring the incredibly new Justice League Dark story arc to life on the silver screen.
Who would YOU like to see in Guillermo del Toro's upcoming Justice League Dark film? It's not the enchanted princess thing, is it?
About The Author