Harrison Ford and Abigail Breslin join Ender's Game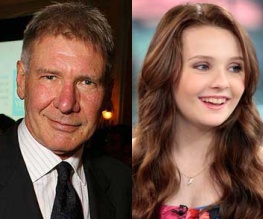 Sci-fi veteran Harrison Ford and starlet Abigail Breslin are the latest actors to join Gavin Hood's adaptation of Nebula and Hugo Award-winning novel Ender's Game.
The science fiction novel by Orson Scott Card, which was published in 1985, is set in a dystopic future when Earth is under attack from insectoid aliens called Formics or 'buggers'. Yep.
Asa Butterfield (Hugo) is already on board to play the titular Ender Wiggin, a child prodigy who is chosen to enter the international 'Battle School' and undergo training designed to produce the tactical military minds needed to repel the aliens. Ford will play Battle School commander Col. Hyram Graff, whilst Breslin will portray Ender's sister Valentine. Hailee Steinfield (True Grit) is also signed up to play Ender's friend Petra Arkanian, one of a handful of female Battle School recruits.
Ender's Game is a fairly transparent attempt to cash in on the projected success of The Hunger Games, although the adaptations of Suzanne Collins' wildly popular YA novels have the advantage of being based on very recent source material. Still, we like the sound of Ender's Game – look out for the book in Waterstone's come Boxing Day and get ahead of the game!
Have you read Ender's Game? What do you think of this casting news? Let us know below!
About The Author