New poster for Amanda Seyfried's Gone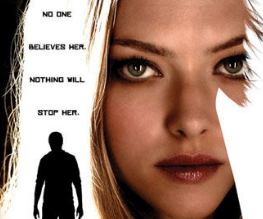 About a month ago we brought you the first trailer for action thriller Gone – where Amanda 'so much hair' Seyfried plays a lass determined to hunt down a kidnapper. Now we're got a new poster, and it's silhouette-TASTIC.
She's a funny one, Amanda Seyfried, isn't she? We actually have a lot of time for her – she's stretching those limbs of hers out into lots of different genres (musical comedy? Mamma Mia. Erotic thriller? Chloe. Wistful danger-drama? Red Riding Hood. Sci-fi dystopia? In Time) and it's genuinely refreshing to see a young actress take some chances. Gone looks to be different again – an action flick where Seyfried is on the track of a man who, according to her, has taken her sister captive. Whether the spindly wee lass can actually lift an actual proper gun is another matter entirely, but HEY THERE'S A POSTER:
We have to say, we're not massive fans of this – the multiple silhouettes make the image look rather cluttered and confusing, not really giving us any clues as to the atmosphere for the film except for "characters sometimes stand directly in front of lights". Still, Gone is evidently a vehicle for Seyfried, and that's what the head honchos at Summit Entertainment are hanging their marketing on. Fair enough. It's just good to know that even when your sister is missing, presumed tragic, there's still plenty of time to sort your lipstick out…
Gone hits UK cinemas in Feb – will you be watching?
About The Author