Harry Potter franchise to get 3D cinema re-release, says Warner Bros.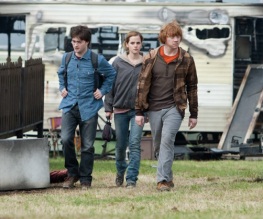 Having accio'd in excess of $205 million in its first five days of release, penultimate instalment Harry Potter and the Deathly Hallows Part I is currently making itself at home atop the U.S. Box Office. Boasting its very own theme park and Lego videogame, all that seems to remain in the franchises path to world domination is a 3D re-release. Until now, that is.
The Hollywood Reporter is, well, reporting that following the release of next July's closing chapter, the entire saga will be returning to cinemas for an extra dimensional encore in the same vein as Star Wars and Indiana Jones. With a 3D Blu-ray release also being planned however, this particular re-issue will be for a limited time only. According to Warner Bros.' domestic distribution president Dan Fellman:
"I don't think a wide theatrical re-release could sustain the costs of a modern marketing campaign."
Such reports follow franchise producer David Heyman's speculation earlier this year that it was just a matter of time before the series was converted.
Harry Potter and the Deathly Hallows Part I was initially scheduled for a 3D release, however, the extra dimension was purportedly dropped when the studio was unhappy with the rendering. Not that a standard 2D release has hurt the international Box Office. Released in 91 foreign territories and skewing the gender divide evenly, Harry Potter and the Deathly Hallows Part I has achieved the eighth-best opening weekend ever.
Although stars Daniel Radcliffe, Emma Watson and Rupert Grint purport to be done with the series – however grateful they might be for the role it has played in their lives – it looks like the rest of us muggles will be immersed in J. K. Rowling's world for a while to come.
About The Author