Hunger Games actress to join Percy Jackson sequel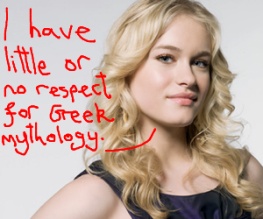 Leven Rambin, whose major claim to fame so far is getting hideously stung to death as minor Hunger Games antagonist Glimmer, has landed a lead role in the barely-awaited sequel to Percy Jackson and the Olympians: The Lightning Thief.
In Percy Jackson and the Olympians: The Sea of Monsters (these names really are dynamite, aren't they?), Disney Channel alumnus Rambin will play Clarisse, the daughter of Greek god of war Ares and HANG ON A SECOND CLARISSE ISN'T A GREEK NAME.
We know that the Percy Jackson books play relatively fast and loose with the conventions of classical myth – 'Percy Jackson', for example, isn't in the Iliad OR the Odyssey – but there are still plenty of 'real' demigods for the producers (or, indeed, series author Rick Riordan) to choose from. Depending on your source, Ares had anything up to forty-eight children with various consorts; and that doesn't include the three entire tribes he also spawned in between mammoth bouts of spearing everyone in the area with a) his spear and b) his penis. So why are we writing about some twonk called Clarisse? We bet she isn't even from West Virginia.
ANYWAY. Rambin's playing Clarisse, who does actually have a spear (but doesn't have a penis, probably), and Logan Lerman's returning as Percy despite being one of the shittiest things about last year's unforgivable Three Musketeers reboot. Diary of a Wimpy Kid director Thor Freudenthal is replacing Chris 'come on, guys, Philosopher's Stone wasn't that bad…' Columbus, although the quondam Harry Potter director is sticking around to produce. Let's hope for Leven's sake that this time round she gets to do more than be a shit archer and then swell up like her on-screen dad's Olympian member.
About The Author