Iron Man 3 gets yet another TV spot; reveals nothing new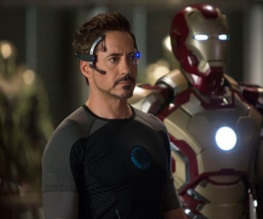 The lovely folks who made Iron Man 3 really, really want us all to go and see it, so they've flung a SEVENTH TV spot at us for our viewing pleasure. While it's always nice to see Robert Downey Jr. get his superhero on, there's literally only a millisecond of new footage. That new footage is of one of Tony's nice cars driving along – but blink and you'll miss it. Another aspect of this spot that's worth mentioning is the pretty nifty soundtrack over the top. It's called Suit Up by Blue Stahli, for those interested. Play it loud and headbang.
Other than that it's all stuff we've seen before: Tony's army of metal suits, explosions; an ominous shot of the Mandarin and a fleeting glimpse of Rebecca Hall's character looking a bit worse for wear. Iron Man 3 will be the start of Phase 2 of Marvel's cinematic universe, so everyone is hoping it will deliver. From the looks of this TV spot – and the six TV spots and two trailers before it – it flamin' well will. Joining Downey Jr. on this wild ride is Gwyneth Paltrow, Don Cheadle and Ben Kingsley, who'll add a bit of gravitas to proceedings. Bring on April 25.
About The Author