Iron Man 3 TV spot unveiled at Super Bowl half time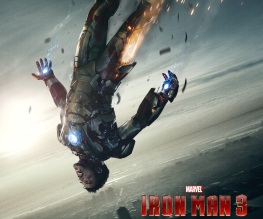 The Super Bowl Final, traditionally an opportunity for high profile advertising or anticipated TV spots, was broadcast in the US last night (the Baltimore Ravens defeated the San Franciso 49ers). This year was no different, with an audience of over 100 million being treated to a new Iron Man 3 'Extended' teaser trailer, now extensively available online, including here.
Ah, Tony Stark. That intense, yet playful stare. Part psychotic, part jester. Robert Downey Jr's 'extensive rather than extended' first look cuts to the meaty stuff – our beloved suave Iron Man in crisis, his lofty pad smashed up, glimpses of Sir Ben Kingsly garbed up for the desert for some reason, scary accent to boot. In keeping with the trend for aeroplanes blowing up in the sky (The Dark Knight Rises), an aeroplane blows up in the sky, 13 innocents in the air, Tony has to save them all before they hit the ground – will he, won't he? I think we all know the answer.
Anyway, check out the trailer for yourself. We at BFF Towers are very excited by the prospect of another Tony Stark tumble in the Iron Suit, and the trailer complements wonderfully the bad ass movie poster revealed last week. Iron Man 3 hits the UK 26 April. Bring it on!
Looking forward to Tony Stark's return? Did you know that the Starks of Winterfell also return in April? Which do you prefer? LET US KNOW
About The Author