Is a Dumb And Dumber sequel on the way?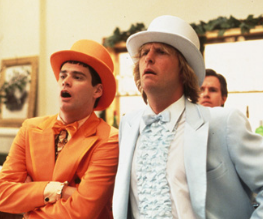 It's been seventeen years since we first met the joyous team that was Lloyd Christmas (Jim Carrey) and Harry Dunne (Jeff Daniels), and if you're asking the Farrelly brothers, it's time we paid them another visit. The directors of the original are in talks with the writers of Hot Tub Time Machine and Mr Popper's Penguins about producing a sequel to the 90s classic, getting Jim and Jeff back centre-screen. Yeah. We're not sure about this, to be honest.
First of all, it's not exactly a franchise that's famous for its mileage – Dumb and Dumberer anyone? And yes, of course it would be very different if the original stars came along for the time, but Jeff Daniels hasn't exactly been rolling in offers over the past few years and as for Jim Carrey; we love you Jim, but you've made some spectacularly bad choices in recent times (the bloody Penguin Film, Yes Man, that vaguely unsettling message to Emma Stone…).
All of this would be immaterial, of course, if the sequel could be relied upon to deliver the comedy goods – but the chosen writers (Sean Anders and John Morris) only really have Hot Tub Time Machine and Mr Popper's Penguins under their belts. Neither of which were particularly funny. And not being very funny about a HOT TUB that's also A TIME MACHINE takes some doing.
All in all, this project has Money-Spinner written (hilariously misspelt) all over it. What's your opinion?
About The Author