Jackie Robinson biopic trailer released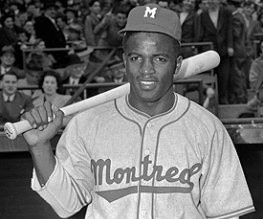 In what feels like the 100th biopic to be revealed this month, the trailer for 42, a film based on Jackie Robinson's life and career, has just been released. Directed by Brian Helgeland and brought to us by Warner Brothers and Legendary Pictures in partnership, the film is slated for an April 2013 release.
Newcomer Chadwick Boseman is to play Jackie Robinson, heading a cast that features Harrison Ford, Alan Tudyk and John C. McGinley amongst others. Boseman has appeared in a slew of television series but this marks his first starring role in a motion picture. As Jackie Robinson is a much loved and respected figure, we were concerned that the decision to cast an actor with so little prior experience may impact negatively on the film but judging from the trailer, Boseman delivers a capable performance.
For those not familiar with American baseball, Jackie Robinson made history as the first black man to play major league baseball with the Brooklyn Dodgers and he has been frequently credited as an instrumental figure in the fight to put an end to segregation in baseball. The "42" relates to the number he wore on his sports jersey, and whilst it doesn't make for much of a catchy title, there can be no denying its cultural significance.
From the looks of the trailer, 42 is going to shed a lot of light on an American hero that few may be aware of.
What do you think of the Jackie Robinson biopic trailer?
About The Author