Jai Courtney to join the McClane family for Die Hard 5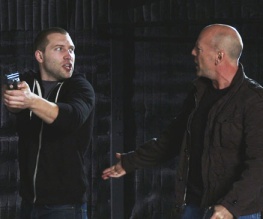 Spartacus: Blood and Sand star Jai Courtney has been cast as upstart badass Jack McClane in unnecessary fivequel (I can't believe I just typed 'fivequel') A Good Day To Die Hard.
McClane, the son of franchise frontman John McClane (Bruce Willis), will probably have more hair and fewer vests than his dad but be equally shooty and so on. Apparently Jack is due to get embroiled in a terrorist plot which will require his dad to go and save him. In Moscow. Hopefully all those aliens have cleared off by the time they start shooting…
We don't know a whole lot about Courtney, beyond the fact that he's starring alongside lovely Rosamund Pike in forthcoming Tom Cruise vehicle One Shot and that he's a whole lot more buff than his onscreen dad. Could he being groomed to take over the franchise à la Jeremy Renner in Mission: Impossible AND Bourne? Wait and see…
Did anyone actually see Die Hard 4.0?
About The Author