Jason Voorhees to join Hansel and Gretel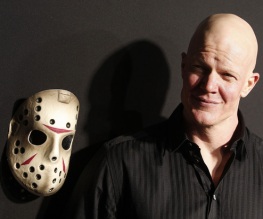 Derek Mears aka monolithic mass-murderer Jason Voorhees (rebooted Friday the 13th) has just been confirmed to join the cast of Dead Snow director Tommy Wirkola's Hansel and Gretel: Witch Hunters 3D, along with Thomas Mann (The Middle).
Paramount Pictures' original re-imagining of the belovedly grim(m) fairytale is set 15 years after Hansel and Gretel have killed their first flesh-eating hexist, and the siblings have ditched the breadcrumbs for bounty-hunting artillery.
With a cast that already sports names that are no stranger to hardcore action and bloody violence – Jeremy Renner (The Hurt Locker), Gemma Arterton (Prince of Persia), Famke Janssen (X-Men) and Ingrid Bolso Berdal (Cold Prey) – it looks like the candy house may be more sick than sweet. Which is just how we like it.
About The Author