New Hop trailer leaps online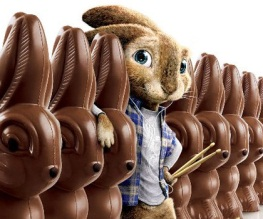 In case you've not had your Russell Brand fix checking out the latest Arthur trailers, you can also track him down in the new trailer for Hop – he voices the Easter Bunny (EB); a prodigious rabbit that fights to escape his destiny as the overlord of Easter (or something).
Judging by the new trailer, Hop is going to be a light-hearted, tongue-in-cheek kids flick centred around a battle between Easter bunnies and chicks, as they fight to claim the power of Easter. EB's dad currently runs the show, but when his rock-n-roll-loving son runs away to Hollywood to become a musician (just go with it), the underling chicks begin to plot a take-over. It's up to EB to live up to his responsibilities and save the world from a fluffy demise.
Have a look at the trailer below. Made by the kids behind Despicable Me, it looks more appealing than Alvin and The Chipmunks (as do most fresh corpses), but never really approaches the draw of a Pixar offering:
Tempted by Hop? Talk to us…
About The Author