Javier Bardem to play iconic Stephen King hero?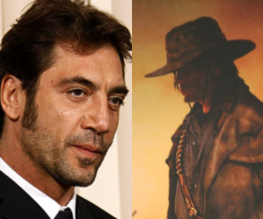 Hot on the heels of his Academy Award Best Actor nomination for Biutiful, Javier Bardem has received another boost: Universal have offered him the part of Roland Deschain the Gunslinger, brooding hero of Stephen King's gargantuan Dark Tower series. Also in contention were Viggo Mortensen and Christian Bale, but it seems Bardem's Oscar nod was the clincher – a theory blown comprehensively out of the water by the fact that Bale also received an Oscar nomination, albeit in the Supporting Role category. Let's just presume he wasn't too keen on taking on another franchise. Or even, that the producers just thought Bardem was the best choice. Could it be that simple?
A franchise it certainly is, though. The series runs a rain forest-decimating seven novels, and Director Ron Howard has committed to no less than three feature films and two television series. All sounds great, right King fans? Wrong. For the writer will be none other than Akiva Goldsman, of Batman & Robin infamy. Arse.
About The Author